Making contact with Orange Wine
Embracing Low-Intervention Winemaking Methods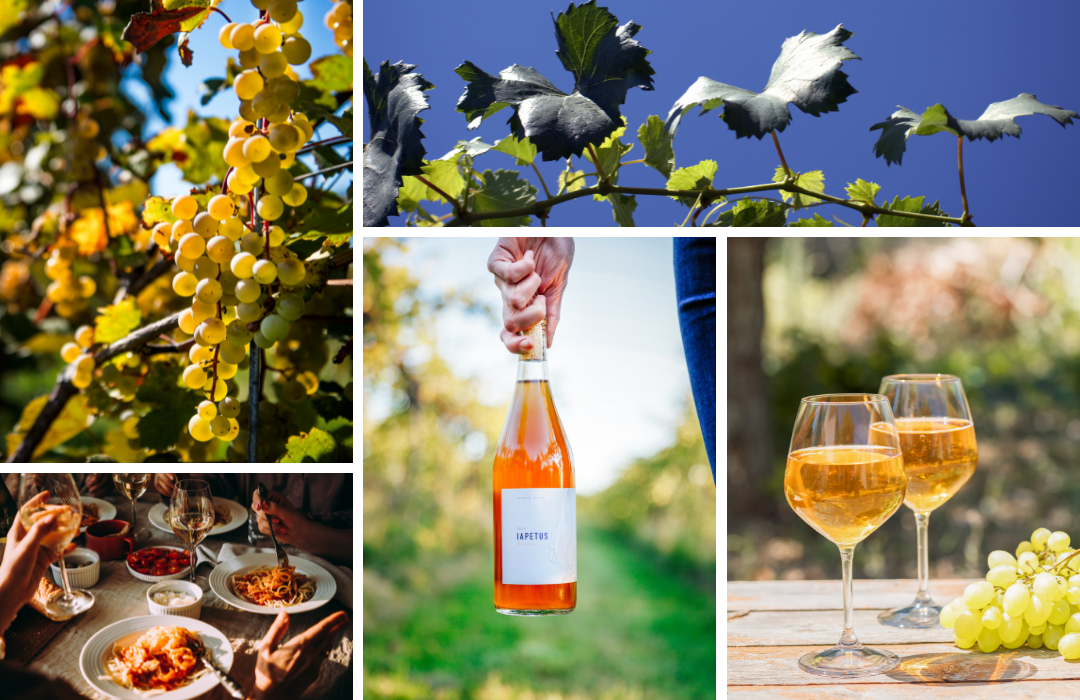 Let's chat about the latest buzz in town- Orange Wine! Though new to most U.S markets, the art of making Orange Wine dates back thousands of years to Georgia and remains popular today. Iapetus Wines has been producing Tectonic, a vintage inspired by traditional methods, since 2016. It's thrilling to see how many people are now curious about Orange Wine, and, as a bunch of cider and wine nerds, we'd love to tell you more about it!
What is Orange Wine?
Basically, it's a white wine made like a red wine. Orange Wine is made from white wine grapes where the juice is left in contact with the grape skins and seeds for a prolonged period, giving it an orange or amber hue. Unlike traditional white wines, where the juice is separated from the skins immediately after pressing, Orange Wine is fermented with the skins and seeds, resulting in a wine with a unique flavor profile and tannic structure.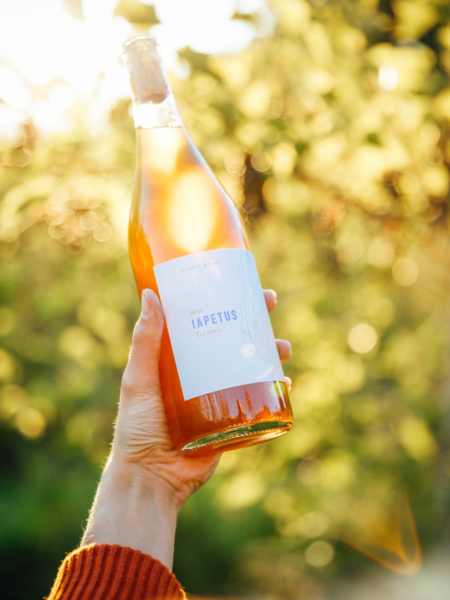 So…why is it becoming popular now?
The rise in Orange Wine comes in tandem with the natural wine movement. Many Orange Wines you see on the shelf are made using organic or biodynamic grapes and are fermented with native yeasts and minimal intervention. Now – and bear with us for the nerdy caveat, "biodynamic" and "natural" are unregulated terms that anyone can put on a bottle, whereas organic means that the vineyard uses certified organic grapes (though that doesn't, by extension, mean that they are doing low intervention fermentation). It's complicated – and weird! By extension, it involves a lot of trust between you, the drinker, and us, the winemakers, when it comes to what we say about our wines.
When we say natural wine, we mean low-intervention wine made using grapes grown responsibly – tended to by our small and dedicated team of wine growers whose passion for sustainable agriculture sings in every bottle.
Politics of marketing terms on wine aside, Orange Wine is a flavor departure from the traditional lineup of red and white wines. Its tannic structure and complexity make it a great match for dishes like roasted meats, stews, curries, cheese, and charcuterie plates. Like all natural or low-intervention wines, it shrugs off notions of sameness – each vintage, even every sip, offers something different because of the lack of additives.
How we make Orange Wine in Vermont
You may be thinking winemaking…in Vermont? Traditionally, grapes are grown in climates far more forgiving and warm than Vermont, but new cold-hardy hybrid grape varieties – like Marquette, Frontenac, and La Crescent are able to withstand temperatures that can dip well below freezing, making them suitable for cultivation in regions that were once considered too cold for grape growing.
These are largely hybrid grape varietals and more than being cold-hardy, they're resistant to a lot of present challenges that come from harsher weather patterns (powdery mildew, phylloxera, for starters). They're typically a crossbreed of traditional wine grape (vitis vinifera) and other species of grape–common up here are vitis labrusca and vitis riparia (many of which have been grown here way before us by indigenous folks). These grapes and their expressions are likely new to even seasoned wine drinkers. The resulting wine reflects Vermont terroir, crafted with sustainability, ethics, and community in mind.
Introducing, Tectonic

Ok – it's not a new wine for us, Iapetus started making Tectonic back in 2016, and for years it's been charming the socks off of people visiting our tasting room.
Made from 100% La Crescent grapes grown sustainably in our Vermont vineyards, our skin-contact Orange Wine is delicate yet intense. It is full bodied and highly aromatic, with a balanced tartness on the finish. Tectonic is a wild & magical creature!
The flavors of our 2021 vintage are balanced, complex and layered, with notes of apricot, peach, raisin, white pepper, tea, rose water, and floral attributes; you could keep your nose in this all day.