Brut Nature and Food: Harissa spiced Haloumi
Recipe from Effie Loupakis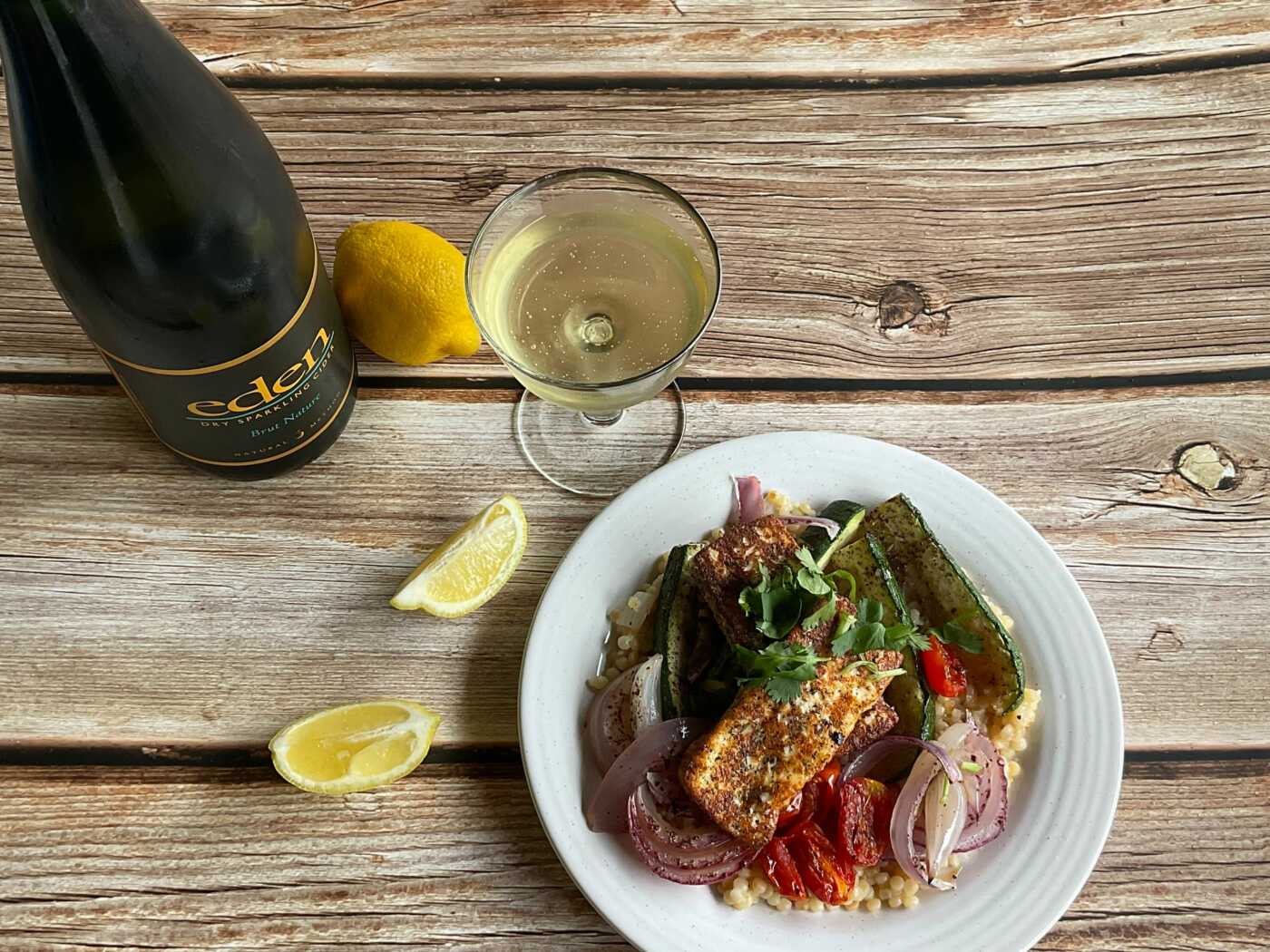 Brut Nature is our answer to champagne. It's at once celebratory sparkler and a serious food wine, built of mostly bittersharp apple varieties lending complexity and structure, resting on lees for at least 18 months, creating depth and a creamy mouthfeel.
Inspired by Brute Nature's light, citric notes I put together a recipe that I make for lunch on warm weekends to share with my partner. Harissa spiced halloumi over couscous with broiled vegetables!
Haloumi (or grilling cheese) is a semi-hard cheese made from goat and sheep's milk. It's a staple cheese in the Greek community and pairs wonderfully over couscous, salad, and veggies. The lemony flavors in the couscous dance with the bubbles while the spice of the harissa highlights the refreshing, dry qualities of Brut Nature. It's a great vegetarian meal option, and you can easily swap out the couscous with rice to make the entire experience gluten-free! This recipe feeds my partner and me and leaves us pretty full.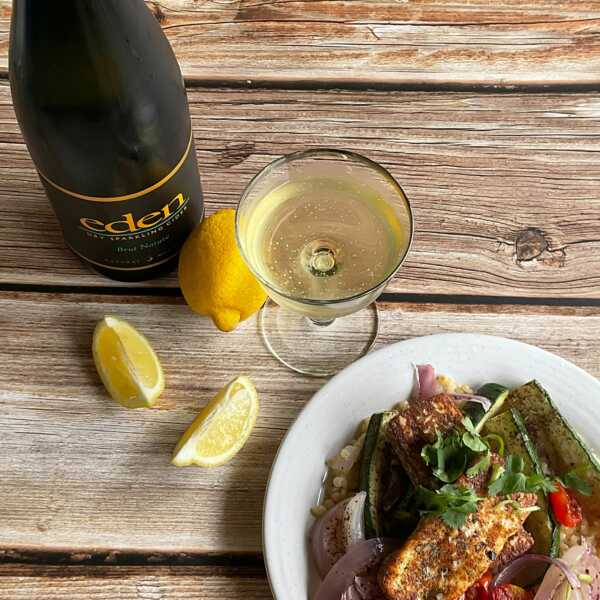 You're going to need:
Haloumi (or a grilling cheese alternative) 8oz
1 red onion
1 zucchini
A couple of grape tomatoes
1 lemon
Cilantro for garnish (optional)
Couscous (or rice) 6oz
Veggie stock
Harissa spice
Ground sumac
This recipe takes around 30 minutes to make and plate – making it a great quick cider pairing option. You can download a pdf of the recipe here.
1. Heat your broiler to high. Halve, peel, and cut the onion into wedges (save a little to mince for the couscous). Cut the zucchini into lengthwise wedges and halve your tomatoes. Toss in some olive oil and add some salt, pepper, and sumac to taste. Place on an aluminum pan and broil for about 10-15 minutes (watch carefully, so it doesn't burn).
2. Heat some oil in a small pot and add some minced onion, salt, and couscous. Cook until couscous is lightly toasted, then add 3/4 cups water and some veggie stock for flavor. Cover and reduce to a simmer – cook for about 6-8 minutes.
3. While the veggies and couscous are going, cut your halloumi into about 1/2 inch thick slices. I like to toss my slices lightly in a paper bag with the harissa spice to get a consistent thin layer, but you can sprinkle and pat the harissa spice onto your halloumi as well. Heat a little olive oil and cook on both sides until a little brown – don't worry, halloumi will retain its shape and wont melt all over your pan.
4. When everything is ready, fluff the couscous with a fork and squeeze some lemon in. Use the couscous as a base layer, add veggies and halloumi, and top off with another lemon squeeze (if you'd like) and a sprinkle of cilantro – pop open your bottle of Brut Nature, pour and enjoy!